Huajin Corporate Finance (International) Limited ("Huajin Corporate Finance Int'l") is a wholly-owned subsidiary of Huajin Financial Holdings Company Limited, the only offshore financial services platform of Huafa Group. Together with HSIL, Huajin Corporate Finance Int'l provides comprehensive investment banking services in Hong Kong.


Huajin Corporate Finance Int'l (formerly, "WAG Worldsec Corporate Finance Ltd") possesses a professional team with extensive experience in the investment banking industry. Our team has established a close working relationship with personnel from different institutions and has attained effective communication with regulatory bodies in Hong Kong and the PRC. Members of our corporate finance division have participated in and successfully completed numerous sizeable and renowned listing and fundraising projects. Our seasoned corporate finance team has accumulated rich experience in listing and is able to provide professional advice and tailor-made execution plans to our clients.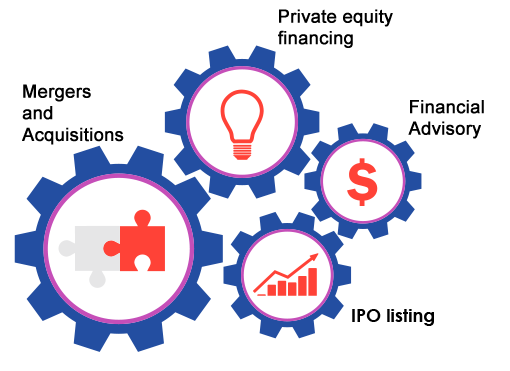 Our philosophy
"Customer Focus" is the philosophy of Huajin Corporate Finance Int'l.


We strive to provide detail and precise market analysis together with objective and pragmatic financial advice to our clients. We endeavor to attract capable professionals with project execution experience to serve our clients at the highest standard.


We target to develop our corporate finance segment steadily by meeting the market needs with our professional service and by formulating the best solution for our clients with innovative mindset.
Achievements


| | |
| --- | --- |
| BetterLife Holding Limited | Linklogis Inc. |
| 6909.HK | 9959.HK |
| Joint Lead Managers | Joint Lead Managers |
Datang Group Holdings
Limited
Ganglong China Property Group
Limited



2117.HK
6968.HK
Joint Lead Managers
Sole Sponsor, Joint Global Coordinators,
Joint Bookrunners and Joint Lead Managers
Sino-Entertainment Technology Holdings Limited
Wise Ally International Holdings Limited



6933.HK
9918.HK
Sole Sponsor, Joint Global Coordinators,
Joint Bookrunners and Joint Lead Managers
Sole Sponsor, Joint Global Coordinators,
Joint Bookrunners and Joint Lead Managers
Hong Kong Johnson Holdings Co., Ltd
Prosperous Industrial (Holdings) Limited



1955.HK
1731.HK
Joint Global Coordinators,
Joint Bookrunners and Joint Lead Managers
Sole Sponsor, Sole Global Coordinator,
Sole Bookrunner and Joint Lead Managers
Anchorstone Holdings Limited
Jiayuan International Group Limited



1592.HK
2768.HK
Sole Sponsor, Joint Bookrunners and
Joint Lead Managers
Placing Agent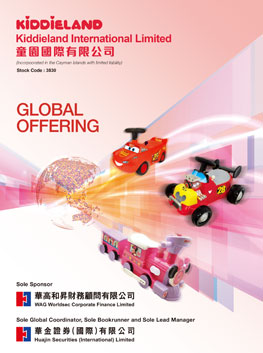 Kiddieland
International Limited
3830.HK
Sole Sponsor, Sole Global Coordinator,
Sole Bookrunner and Sole Lead Manager
IPO and Underwriting Projects
Company

Stock Code

Year of Listing

Role of Huajin Corporate Finance Int'l and our fellow subsidiary

Total Amount of Fund Raised (HK$)

BetterLife Holding Limited

6909.HK

2021

Joint Lead Managers

$660,000,000

Linklogis Inc.

9959.HK

2021

Joint Lead Managers

$7,961,604,030

Datang Group Holdings Limited

2117.HK

2020

Joint Lead Managers

$1,520,304,000

Ganglong China Property Group Limited

6968.HK

2020

Sole Sponsor, Joint Global
Coordinators, Joint Bookrunners and
Joint Lead Managers

$1,692,328,740

Sino-Entertainment Technology Holdings Limited

6933.HK

2020

Sole Sponsor,
Joint Global Coordinators,
Joint Bookrunners and
Joint Lead Managers

$163,000,000

Wise Ally International Holdings Limited

9918.HK

2020

Sole Sponsor,
Joint Global Coordinators,
Joint Bookrunners and
Joint Lead Managers

$125,000,000

Hong Kong Johnson Holdings Co., Ltd

1955.HK

2019

Joint Global Coordinators,
Joint Bookrunners and
Joint Lead Managers

$125,000,000

Prosperous Industrial
(Holdings) Limited

1731.HK

2018

Sole Sponsor,
Sole Global Coordinator,
Sole Bookrunner and
Joint Lead Managers

$249,200,000

Anchorstone Holdings Limited

1592.HK

2018

Sole Sponsor,
Joint Bookrunners and
Joint Lead Managers

$120,000,000

Jiayuan International Group Limited

2768.HK

2017

Placing Agent

$1,417,520,000

Kiddieland International Limited

3830.HK

2017

Sole Sponsor,
Sole Global Coordinator,
Sole Bookrunner and
Sole Lead Manager

$120,000,000

Sanroc International Holdings Limited

1660.HK

2017

Co-Managers

$144,000,000

Royal Deluxe Holdings Limited

3789.HK

2017

Joint Bookrunners and
Joint Lead Managers

$168,000,000

Food Wise Holdings Limited

1632.HK

2016

Sole Global Coordinator,
Sole Bookrunner and
Sole Lead Manager

$100,000,000

RM Group Holdings Limited

8185.HK
(current stock code:0932.HK)

2013

Sole Sponsor and
Joint Lead Underwriters

$138,672,000

Mastercraft International Holdings Limited

8146.HK
(current stock code:3966.HK)

2012

Sole Sponsor and
Joint Lead Underwriters

$42,000,000

PC Partner Group Limited

1263.HK

2012

Sponsor and
Joint Lead Underwriters

$168,000,000

Binhai Investment Company Limited

8035.HK
(current stock code:2886.HK)

2000
(Year of the Open Offer:2009)

Underwriter

$32,632,480

Playmates Toys Limited

0869.HK

2008

Sponsor

By Introduction

Tianjin Port Development Holdings Limited

3382.HK

2006

Underwriter

$1,086,640,000

Financial Advisory Projects
| Company | Stock Code | Year | Type of Transaction | Role of Huajin Corporate Finance Int'l |
| --- | --- | --- | --- | --- |
| Chu Kong Petroleum and Natural Gas Steel Pipe Holdings Limited | 1938.HK | 2019 | Very Substantial Disposal | Financial Adviser |
| Hong Kong Johnson Holdings Co., Ltd. | 1955.HK | 2019 | New listing | Financial Adviser |
| Chu Kong Petroleum and Natural Gas Steel Pipe Holdings Limited | 1938.HK | 2019 | Very Substantial Disposal and Connected Transaction | Financial Adviser |
| Chu Kong Petroleum and Natural Gas Steel Pipe Holdings Limited | 1938.HK | 2018 | Very Substantial Disposal | Financial Adviser |
| Speedy Global Holdings Limited | 0540.HK | 2017 | Connected Transaction | Independent Financial Adviser |
| Chu Kong Petroleum and Natural Gas Steel Pipe Holdings Limited | 1938.HK | 2017 | Major Transaction and Very Substantial Acquisition | Financial Adviser |
| Gold-Finance Holdings Limited | 1462.HK | 2016 | ---- | Retainer Financial Adviser |
| Binhai Investment Company Limited | 8035.HK | 2009 | Reorganization Proposal | Financial Adviser |
| Sichuan Xinhua Winshare Chainstore Co., Ltd. | 0811.HK | 2007 | ---- | Financial Adviser |
Compliance Advisory Projects
| Company | Stock Code | Year | Role of Huajin Corporate Finance Int'l |
| --- | --- | --- | --- |
| Laekna, Inc. | 2105.HK | 2023 | Compliance Adviser |
| Beijing Digital Telecom Co., Ltd | 6188.HK | 2022 | Compliance Adviser |
| Ganglong China Property Group Limited | 6968.HK | 2020 | Compliance Adviser |
| Sino-Entertainment Technology Holdings Limited | 6933.HK | 2020 | Compliance Adviser |
| Wise Ally International Holdings Limited | 9918.HK | 2020 | Compliance Adviser |
| Hong Kong Johnson Holdings Co., Ltd. | 1955.HK | 2019 | Compliance Adviser |
| Prosperous Industrial (Holdings) Limited | 1731.HK | 2018 | Compliance Adviser |
| Anchorstone Holdings Limited | 1592.HK | 2018 | Compliance Adviser |
| C-Mer Eye Care Holdings Limited | 3309.HK | 2018 | Compliance Adviser |
| Kiddieland International Limited | 3830.HK | 2017 | Compliance Adviser |
| Jiande International Holdings Limited | 0865.HK | 2017 | Compliance Adviser |
| Food Wise Holdings Limited | 1632.HK | 2016 | Compliance Adviser |
| Denox Environmental & Technology Holdings Limited | 1452.HK | 2016 | Compliance Adviser |
| Jiyi Household International Holdings Ltd | 1495.HK | 2016 | Compliance Adviser |
| Time2U International Holding Limited | 1327.HK | 2016 | Compliance Adviser |
| RM Group Holdings Limited | 8185.HK | 2013 | Compliance Adviser |
| Mastercraft International Holdings Limited | 8146.HK | 2012 | Compliance Adviser |
| PC Partner Group Limited | 1263.HK | 2011 | Compliance Adviser |
| Binhai Investment Company Limited | 8035.HK | 2009 | Compliance Adviser |
| Sichuan Xinhua Winshare Chainstore Co., Ltd. | 0811.HK | 2007 | Compliance Adviser |
Main Contacts
Ms. Shirley Chan
Managing Director and Head of Corporate Finance Division
Email: shirleychan@hjfi.com.hk
Contact Phone no: (852)3108 7792